14
Mar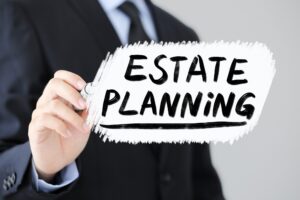 It is not uncommon to avoid the idea of end-of-life planning. We don't exactly enjoy thinking about what will happen to our loved ones in the event of our death.
This is exactly why only about half of Americans have Wills. Even fewer have considered or executed proper estate planning.
Estate planning is a critical component of protecting your assets and ensuring the wellbeing of your loved ones. It protects your possessions and allows you to decide who will be your beneficiaries.
Estate planning also enables you to decide who will make financial and health-related decisions on your behalf.
Without thorough estate planning, you leave yourself and your family vulnerable. Leaving the fate of your assets up to chance is a reckless choice few would take if they understood the full consequences.
Whether you want to plan for your personal estate or for your commercial property investments – or both – you will find the answers to your estate planning questions here.
Personal Estate Planning Services
A thorough estate plan is the best way to ensure things go exactly the way you want them to after you're gone. You can think of an estate plan as a legal set of instructions.
Providing these instructions won't only give you peace of mind. It will reduce the pressure on your surviving loved ones. Learn more about the estate planning services that are most beneficial to you.
Wills and Trusts
The main foundation of every strong estate plan is a will or a trust. A will ensures that your property gets distributed in accordance with your personal wishes.
A trust is a legal relationship that both protects your assets and directs their use. While a will goes into effect after a death, a person can use a trust at any time in their life and after their death.
Trusts are a great way to prevent legal challenges and limit estate taxes. A trust can also be useful when planning a second marriage where either or both parties are bringing assets into the union.
Living Will
A living will is the end-of-life instructions you provide to your caregiver. These instructions explain what kinds of medical interventions you would and would not like to have.
A living will goes into effect when multiple medical professionals have diagnosed you with a terminal or irreversible health condition.
Beneficiary Designations
Some of your possessions and assets can transfer to beneficiaries outside of a will or trust. In these circumstances, it is beneficial to designate a beneficiary and a contingent beneficiary.
Failing to name a beneficiary can result in leaving the fate of your assets up to the court. It is unlikely the court will make the same decisions you would make when it comes to distributing your assets.
Guardianship Designations
Planning for and protecting your children is of the utmost importance when it comes to estate planning. Not all wills and trusts incorporate a guardianship clause. It is important not to overlook this designation.
In the event you do not incorporate a guardianship designation in your estate plan, the court will decide for you. This can mean a relative you didn't choose gets guardianship of your children or they become wards of the state.
Durable Power of Attorney
Power of attorney is a document that gives a designated agent the legal ability to act and make decisions on your behalf when you are no longer able to do so yourself.
These decisions can be related to finances, real estate, and other assets. Without a power of attorney, your loved ones will need to get a court order to make decisions on your behalf.
A durable power of attorney is an agreement that can be revoked when you want. This can be when you are physically able, mentally competent, or upon your death.
Probate
Probate is the legal process that recognizes a will and designates a person to serve as executor of the will. The executor administers the estate and makes sure the assets go to the designated beneficiaries.
Estate Planning Services for Commercial Properties
Those who own commercial real estate or investment properties require an estate plan that takes your investments into account. Failing to incorporate them into your estate can create business issues for your surviving family.
The best approach to estate planning that incorporates commercial and investment properties involves both a Willand/or a Revocable Trusts and the use of limited liability companies.
Revocable Living Trusts and Wills
A revocable living trust or will can be an effective tool for those who own real estate. They simultaneously provide continuity and flexibility in the management of assets.
Trusts are also advantageous because they provide privacy and enable you to avoid probate. Overall, having a revocable trust provides enhanced control in the event of death or incapacitation.
Limited Liability Companies
If you own real estate, it is in your best interest to hold those properties in a limited liability company. An LLC is a business entity that exists separately from its members, protecting them from personal liability.
An LLC is a valuable, effective way to protect your assets and plan your estate. With both a revocable trust and an LLC in place, you can rest easy knowing your assets and investments will remain in good hands.
Choosing a Qualified Estate Planning Attorney
Once you've decided on estate planning, it is important not to rush into selecting an attorney to hire. Not all attorneys are equally equipped to properly manage an estate.
Here are some relevant aspects you should take into consideration.
Experience
A qualified estate planning attorney should have years, if not decades, of experience. When you are researching lawyers, find out how long they have been practicing in the areas of probate, trusts, and estate planning law.
However, simply having experience with estate planning law is not enough. You would do well to find out what percentage of the attorney's practice is devoted to probate, trusts, and estate planning.
Demeanor
In addition to experience, it is important to hire an attorney with whom you can work well. Aim to hire an attorney who is easy to talk to, who makes you feel comfortable, and who puts you at ease.
It's a red flag if an attorney doesn't appear knowledgeable about or interested in your specific situation. It's also a bad sign if the attorney makes you feel confused and fails to articulate the law in a way you understand.
Estate Planning Costs
The cost of planning an estate can range from a couple of hundred dollars for a basic plan to thousands of dollars for a comprehensive plan. The cost of planning your estate will depend on your needs and your lawyer's fees.
Find out upfront whether your estate planning attorney charges an hourly rate or a flat fee, and whether they require a retainer. It's also important to have your attorney provide a written fee agreement.
Learn More About Estate Planning
Estate planning is an essential step in preparing for and protecting your assets and loved ones in the event of your death. You've spent your life working for and acquiring these assets – why leave their fate up to chance?
To learn more about the process of estate planning, consult a qualified estate planning attorney.